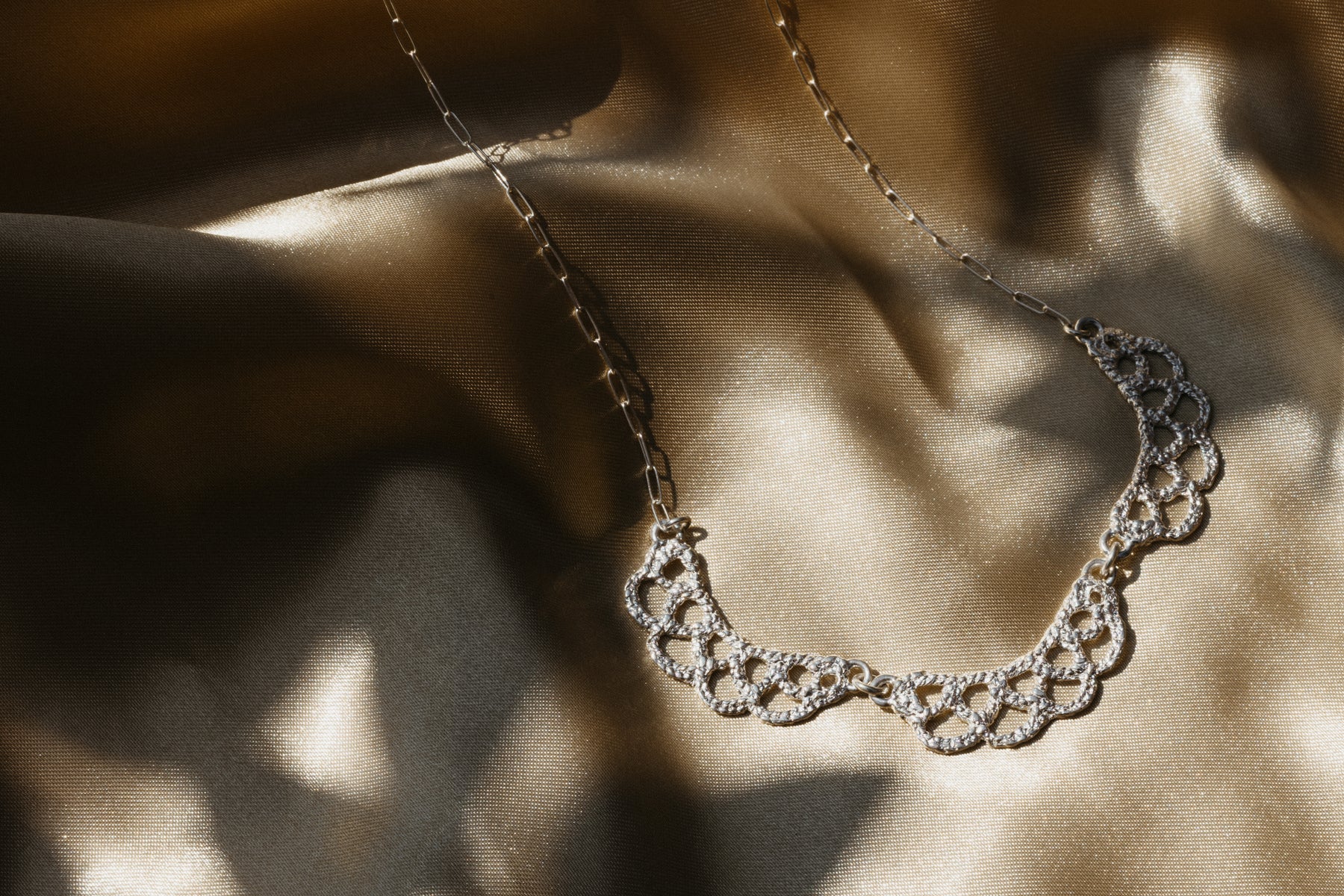 Your Twyla Dill Jewelry Care Guide
From that ring you wear everyday that's looking a little dull or that sterling silver necklace that could use some T.L.C, this care guide has all you need to know...
All you need to know about caring for your favorite Twyla Dill jewelry
From that ring you wear everyday that's looking a little dull or that sterling silver necklace that could use some T.L.C, this care guide has all you need to know.It's split up into three sections to walk you through the different elements of my jewelry: Metal Type, Fine Cotton Lace, and One-of-a-Kind. And as always, if you have any questions feel free to reach out to me directly at: hello@twyladill.com or call 206-659-8171
14kt Gold-Plated

Your gold-plated jewelry is finished with a thick layer of gold over nickel-free brass. Even though it shouldn't wear down or rub off over time, your jewelry would love to be treated with care! When wearing your gold-plated rings, take them off if you plan on doing any hard or rough work to avoid scraping the gold layer off of the ring (same goes for your earrings or bracelets!). Gold plated pieces that are well cared for won't tarnish over time and you can enjoy wearing them for years and years, maybe even pass them down in your family! 

Sterling Silver

As a natural reaction to air and water, sterling silver can tarnish over time. To try and prevent tarnishing, I recommend that while you're not wearing your jewelry store it in a box or ziplock bag. Keep it in a dry spot and avoid damp or humid places, like your bathroom! To polish your Twyla Dill jewelry, use the polishing cloth provided and be careful to not rub over the lace. Polish until the shine has been restored, your jewelry will thank you! 

 

Nickel-Free Brass

I don't use nickel in the studio ever, so you can be confident in knowing that your sensitive skin will remain as happy as you while wearing your jewelry! To care for your nickel-free brass jewelry, just copy and paste from the sterling silver section. Simple as that! 
Crocheted Lace

Treat it like you would your most favorite piece of clothing, lovingly and mindfully. The fine cotton lace used in your jewelry is incredibly durable and made to accompany you on all of your adventures! If your lace needs some sprucing up, simply wash it with your fingers with soap and a little bit of warm water. Then use a towel to pat dry and lay it flat to air dry all of the way, check for and clean off any water droplets, these can leave tiny dots.

Heads Up!

Make sure to take your jewelry off when you shower, sleep, swim AND when you're applying lotion, makeup, sunscreen or hairspray. Oils and products can stain or discolor lace, and I want to keep you looking fresh and fab!
Hand-Dyed

All Twyla Dill hand-dyed pieces are colorfast, which means they're hand-dyed in colors that WILL NOT fade or be washed out. To clean your lace, simply refer back to section 2! 

Stone

Whenever possible, I strive to use stones that are ethically and sustainably mined and sourced. The stone in your Twyla Dill jewelry is made for everyday wear and built to last, but I do recommend being mindful and careful while you wear your piece. Please avoid hitting or knocking it roughly against hard surfaces, and be cautious not to drop your piece to avoid cracking or chipping.
still have questions?
Get In Touch
We hope this guide helps you feel confident in caring for your jewelry, if you have any questions please contact us using our form.
contact us